Ten days ago I had an accident involving a rope, a lake and a wall. I ended up in the hospital. It was not pleasant, at all. For almost one week I was only able to walk from my room to the bathroom and to the front desk in the hostel I´m currently volunteering in.
This hostel is located in the town of Lanquin, which could be considered central Guatemala. Lanquin is just 5 miles from Semuc Champey, one of the most famous natural beautys in this beautiful country. Soon I´ll make a post about my journey there.
Rope swinging into a Guatemalan River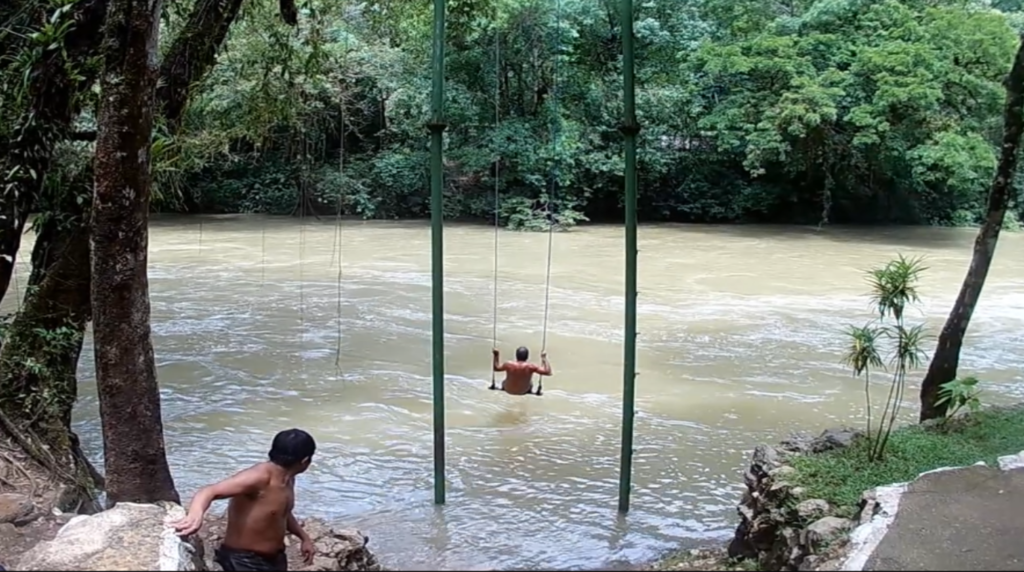 As a traveler and adventurer you crave to be on the move constantly. It is in your blood. You can´t help feeling anxious when you overstay in one place. I was starting to get restless and was constantly in a bad mood. Every day I stretched and tried doing some small hikes around the property but it took no more than thirty steps for the pain to be unbearable. Of course I was improving, finally the day where I was able to do a proper hike in the jungle came, I didn´t think it twice and went for it.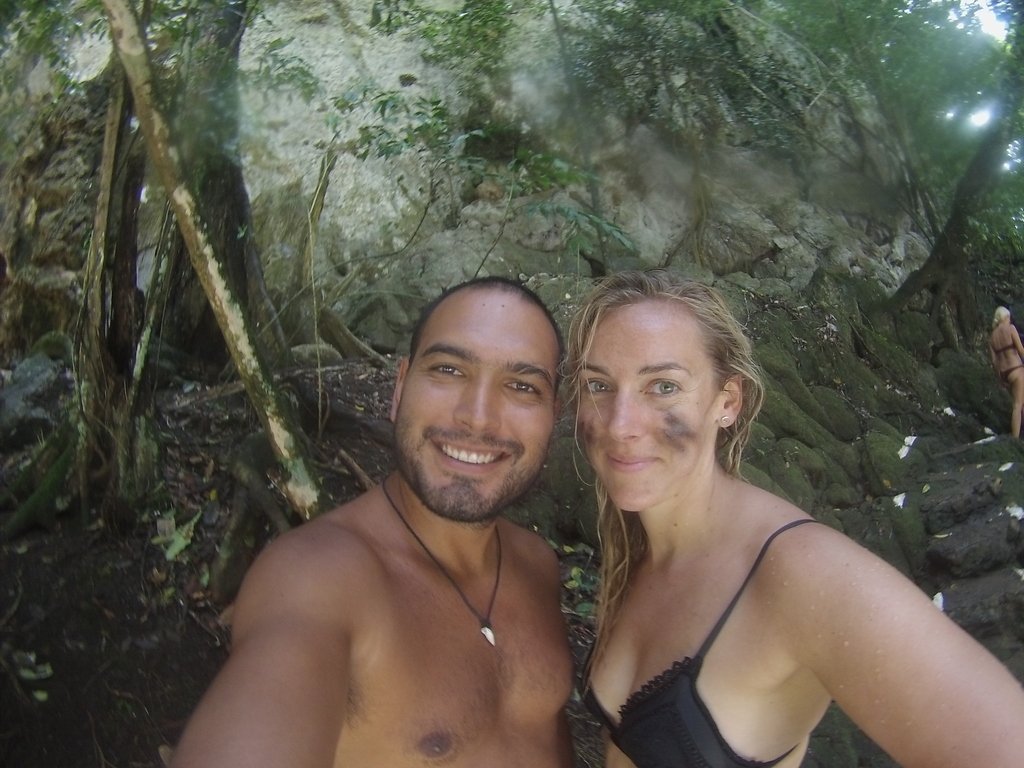 This is Jaimee, she was my sidekick in this adventure and for the past 2 days. This australian girl was up for everything. We hiked, kicked my ass in domino, drank tequila and I actually have a video of her jumping from the swing.
Do you know how after you are involved in a car crash people tell you that you must get behind the steering wheel as soon as you can?
Well, for me, that is the most effective way to overcome the fear and uncertainty you are carrying on your back.
I like to think of myself as a radical person. I like things done and over with it as soon as possible. The only way to get rid of this fear of throwing myself to a lake was to do it again and become one with the element that sent me straight to a public hospital in Guatemala.
I met a cool group of people in the hostel I´m volunteering. They were all going to the river to do some Tubing and rope swinging. That is where I spotted my chance to get over with this fear. It was a two hour hike to get there so we got up very early and hit the trail at 8 am. I always enjoy a good hike with people I like because it is not only about the experience of hiking but that you get to share it with amazing human beings that enjoy the same things that you do.
For me this was a challenge because I am not a 100% healed. I managed to make it to the spot where my newest fear was waiting for me.
But hey, fears exist to be conquered. I was a bit hesitant at first but after a few people it was my turn.
So, no weird mix of spots or fearless stunts, just the regular way. I got into the spot, sat on the swing and went for it…
Of course I had to bring my GoPro, I had to document this! I was also lucky that Shahar from Israel also brought his so I have the video from two points of view.
It was cool. Not as great as other swings I´ve done but it is a start. Let´s call it a step by step rehab. I have to admit it, I was afraid of those two posts, they seemed very close to me when I swang by. In the end it was uneventful aside from a smal pain in the back when I hit the water but that about it.
Tubing the rapids of that very same river
Well, I´m already here and I am feeling confident about taking some fun and adventurous small risks. Let´s hop into a floating doughnut and ride the rapids a mile up from the rope swing. I mean, what could go wrong? All of us are doing it, shouldn´t be dangerous, or at least no too dangerous huh?
So we hiked that mile to this amazing waterfalls just below of the natural ponds  of Semuc Champey. This was in front of my eyes from the small skyview we went to.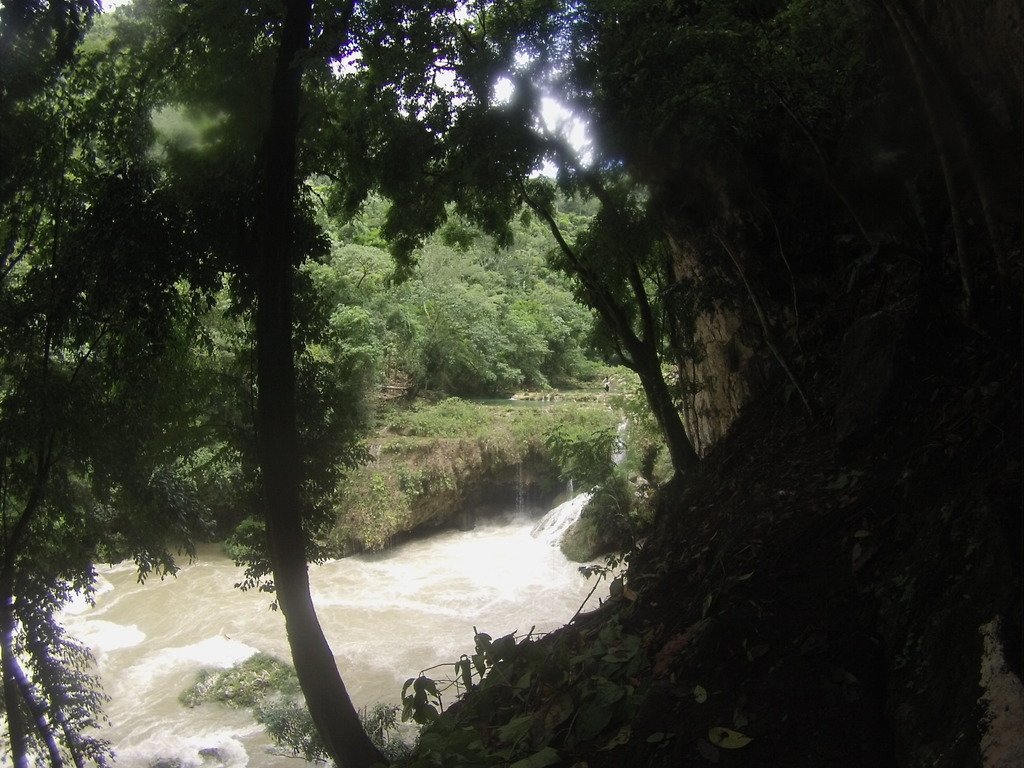 I met Shahar and Liran back in the hostel. Liran is the first Israeli girl I´ve met that is not braver than me. She asked me with a horrified look on her face if we could ride together. Well, who am I to deny my protection to a cute Israeli girl, right? *Insert sacrificing myself face* Hehe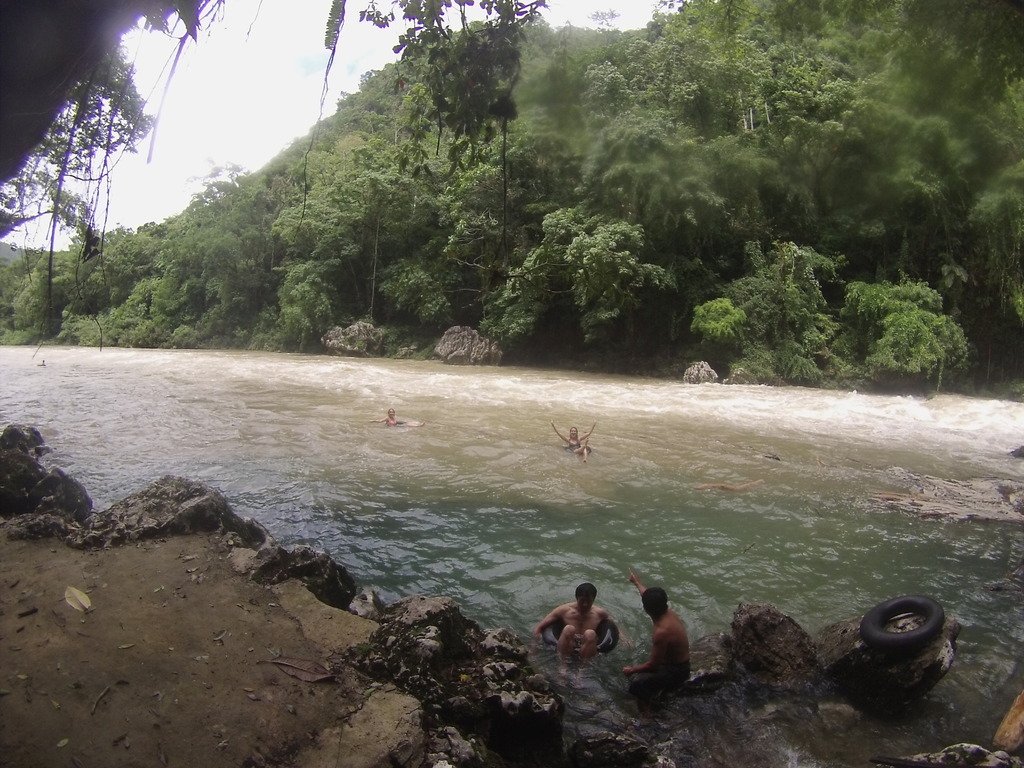 I was feeling very confident about this. I had no second guesses or doubts. See, people always say that the moment you hesitate is when most of the accidents happen. I agree a 100% with that point of view. So up the floating donuts we go!
This was not a life changing experience like some others I´ve had recently but for me it was something I needed to do to get the fear out of my system. What is the point of traveling wildly if you don´t take that step further and do wild things. So this was the first baby step to get back on track to the wild life.
Thanks for reading this all the way and experience my small battle with this inner fear I acquired from my accident in the Lake of Flores, Guatemala.
Remember, Be Here Now.